Well now some big news…. I moved back to Germany!!!
This post is more an emotional discharge after few hard days, trying to get some help from the German Government in order to get started in this new life.
Since Bolivia is not a supportive society, so that an artist can make a living, and on top of that, my education and level of performance is not valued…. I decided to move back to Germany.
In addition Bolivia is economical and disaster and is following the "brillant example" of Venezuela. Well …both presidents are socialists brothers and are very focused in building up own wealth.
The arts and classical music scene is for sure on very high stands here in Germany, so it will be very exiting to meet other artists and visit many concerts.
BUT in order for me to start fresh in Germany, I was counting on the support of the german Government, and this is not very likely now. Many foreigners receive financial support, but in my case it will be not possible. Why? I don't know for sure. Maybe because I had already some success and have few debts in Bolivia. Our life moves always around the money and in order prosper we usually take your chances. So I was honest as it should be and told the lady at the Jobcenter about that – now they want more and more paper work from Bolivia. And that is absolutely not easy to get, corruption is high and nothing  really works.
Well…. everything is on stand by right now.
I try to get teaching jobs but this is complicated. I even applied as a salesman at a music store, and also declined.
I will try to focus on my writings and on finishing my book, maybe through this I get some income.
And the hard part is that my family is still in South America and I miss them.
Here again the government is making things complicated. My daughters are german citizens but my wife is Bolivian….. and this seem to be a problem.
Well enough of sadness!!!
The best I can do is playing and teaching the guitar…. so at least here I will keep working.
Last weekend in Frankfurt I met one of my teachers – Pepe Romero.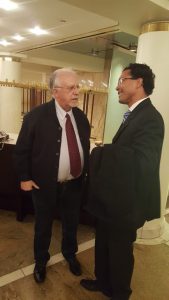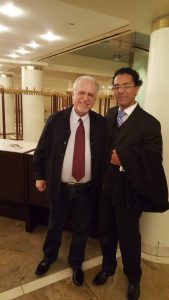 After a fantastic concert (Concierto en Flamenco by Moreno-Torroba and Rodrigo's Concierto de Aranjuez) we met and chat for while. It was 15 years ago that sat together in his house in Del Mar/San Diego and talked about music and had espresso.
In the end he was very pleased about my plan to publish my book and he wants to read it before I publish it!!!!! GREAT!!  Of course the same will do my teacher Celin Romero.
That is a really great news for me right now!!!!
And of course the kindness and magic smile of Pepe makes disappear all the troubles that I have right now.
This means I have to work hard in order to be ready by May. Publishing date is May 2019!!!
So keep joining me here, because I will be posting more and more about my views on guitar technique.
Next to come is more on practicing "Octave Scales" but with a fantastic technique in order to improve independence and using always the fingers 1-3 against 2-4!!
We already covered the octave scale before in the post "Control Technique – Contrary Motion for better finger-independence – Scales"
Come back!
Greetings from Limburg an der Lahn/Germany.